The first step is to contact us.
The water-saving nozzle「Bubble90」offers a variety of product lines based on usage. However, the water supply system and the tap shapes can differ depending on the regions and shops.
To make sure whether you can use 「Bubble90 」 at your place,
please contact us for more information.
「Bubble90」installation manual
The video on this website explains the installation order and safety of「Bubble90」. Anyone can easily install「Bubble90」if you know what your tap type is. Also, it's possible to replace the unusable pipes to the ones that can install「Bubble90」. This can also be easily done using a spanner wrench.
【Faucets that DO NOT accept the unit】

「Bubble90」cannot be installed on faucets with an internal thread aerator.
An adapter for the corresponding internal thread is currently under development.
But if you're in a hurry, please replace the pipe or your whole tap.
Faucet types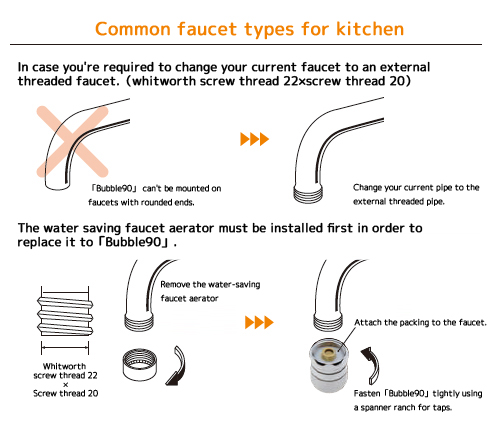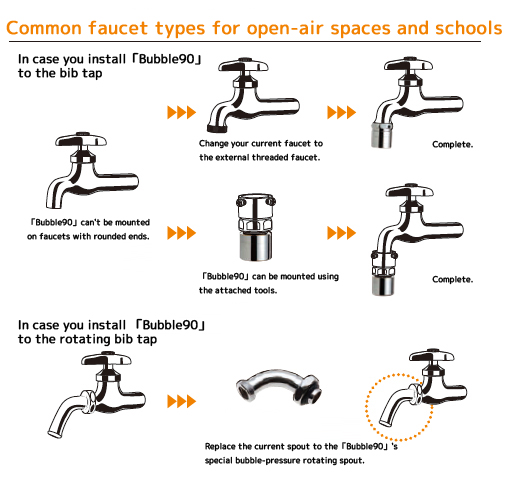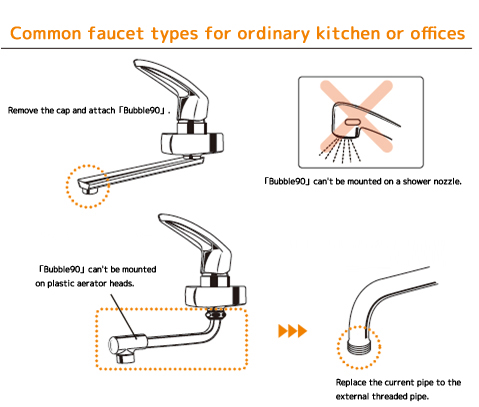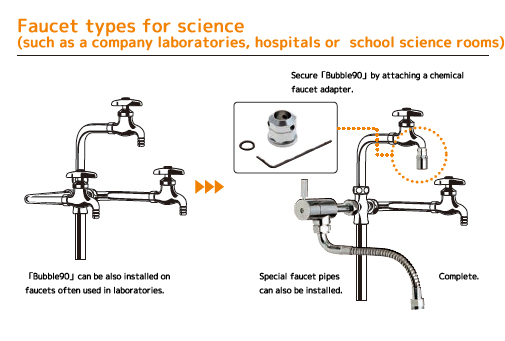 Do not install「Bubble90」in places where things easily freeze.
Do not use「Bubble90」together with other water-saving products.
Since only a small amount of water is discharged from「Bubble90」, your water heater may not work properly when you use a combination faucet.
If the hot water does not come out, please adjust the setting of the water heater.
Please refer to the instruction manual or contact your manufacturer in regards to adjusting the water heater.
When installing「Bubble90」to the automatic faucet, make sure to close the stopcock before replacing it.